Learnings from Eega/ Makkhi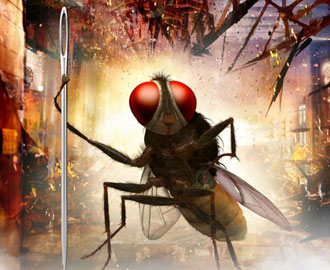 It was by chance I happened to watch the movie Eega in Telegu and now dubbed in Hindi as Makkhi. This movie is all about a fly , the protagonist Nani and Bindu are lovers and rich man comes into their lives  and kills Nani to get  closer to Bindu. Nani  reincarnates as housefly  and plans to take revenge from Sudeep. Nani gets help from bindu and execute a master plan to kill Sudeep to take revenge- this is all about the movie.
When one's desire is intense enough ; a  normal ordinary person will appear to possess superhuman powers. When your desire is burning enough , there is nothing that can stop you.  When we want a thing intensely , this feeling of desire reinforces our will and awakens in us the determination to work for our desired goal.
The movie has all it to take few life like lessons for corporate world.
The very Power of faith :
A common saying- if you have the will and belief then things can happen. the belief is major ingredient of success , if we keep our desire burning eventually it will happen , take the example of Nani who had utilized his  weakness small size into big opportunity to overcome the powerful Sudeep is true reflection of ultimately the only power man can rely on is the power of faith.
The Power of Fighting for justice:
Today how many of us openly go and confront our bosses for not sponsoring for that coveted training programme , Reward & Recognition or say Promotion and increment, today many of us beat the bite and couple of months later put down  the papers with better offers, it's true sometimes we become disheartened by the injustice meted out but very few bounce back , the way eega fights back the justice despite being put down at every step teaches us that we should never give up and turn to blind eye like how corruption has become a part and parcel of our life , today when small time businessman make their annual operating plan they keep a separate budget for giving bribe. – that should not be the case ." Press on Nothing in the world can take the place  of persistence".
The Power of Coaching & Mentoring:
 you must have experienced many employees join the company with smaller  salary and lower designation -to work with same boss. I had seen this trend in   telecom and infrastructure companies the major reason is the comfort and the learning opportunity they receive from their manager's , the powerful coaching and mentoring what bindu had played to transform the fly is depicted beautifully in this movie. Managers play a important and powerful role of mentors to transform people and their lives.
In this movie bindu transforms a drunken thief through her engaging conversation with eega  and bindu unknowingly become a mentor to the thief and later he becomes a star performer in his company and chosen to go abroad.
 The Power of Communication & Teamwork  :
Considerable part of the movie is been depicted eega trying to communicate with bindu and later make her to help him to become a reason for Sudeep's downfall.
In today's corporate world the ability to understand the true essence of communication and cascading the same essence is highly valued skill, any line manager or any seasoned recruiter will be looking at , communication is not how fluently you talk in any language but it is the art of making others to understand the very essence of the communication, today manager and leaders should be able to cascade & communicate down the level about strategy and vision of the company .
The Power of Sympathising and Empathising with Others:
How many of us help others without other person asking for help or let's put the question in this way – how many times people had helped you without you asking for any help, Look at Eega how he had helped the situation of bindu and tried to bring back smile in her face , Managers and leaders need to inspire their team members and help them to realize the potential by helping them to remove their fear and overcome their weakness.
 The message is that -take small steps and create a high and positive impact in your work culture and in our immediate personal lives and create a positive impact on the society and the younger generation to harness the true potential and having a feeling of  satisfied in life.