My Reflection on "You Don't Need A GodFather"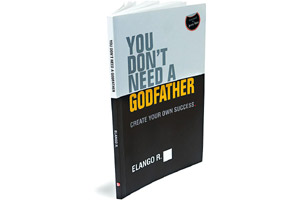 "I felt YDNG is  like a template of success workbook, you need to understand the analogy and anecdotes what Elango has shared, if we practice his memory bytes I am sure success will follow……".
 I was browsing Flipkart for some book on compensation management a topic which I don't have a subject matter expertise and wanted to learn in-depth, during that process I came across a book named "You Don't Need A Godfather"by Elango. R ,
I liked the title, something unusual and I thought "oh some one is there like me who thinks god father is not required to get ahead in career" ,  I decided to read YDNG just because of it's title ,  Searched  Elango in Google  and came across his blog (www.elangor.com) and could recollect seeing  Elango's picture in "People Matters" but never  read his article before, next day when I attended  office went to  Pustakmahal our in-house library and flipped through some of his articles in People Matters and I was zapped  with his article on "Character Sketch-I & II. (http://peoplematters.in/articles/focus-areas/an-interviewlogue-no-method-in-the-madness )
In Next couple of day's I wrote Character Profiling and shared with him and I must appreciate his gesture of encouraging me by posting in his blog as guest post, frankly saying I was little charged up after reading character sketch I &II and decided to have my own domain and start writing periodically and which I did.
The beauty of reading his articles gave a lot of new perspectives and few days later I bought the book and I read and enjoyed and got enriched with lot of perspectives, ideas and few examples which seems real to me.
What I liked about this book is its simple narrative style and many of the anecdotes, examples you can identify with yourself. I can relate to many anecdotes like "Slits Chilies" from this book to myself and my immediate inner circle of friends.
I felt after reading this book it's  like a template of success ,you need to understand the analogy and anecdotes what Elango had shared .Infact I started sharing lots of anecdotes to line managers during one on one discussions/tea coaching time and I can see line managers looking at me with respect and coming forward to invite for tea and sharing their people problems in their team and asking for opinion and insights earlier I felt whenever I interacted with them they had feeling of invading their space, things changed now…
The book reflects real life examples no doubt about it,  take the example of Splits Chille – my favourite chapter, infact , if we reflect ourselves we can recollect many incidents like splits Chille in life – In my first career assignment  no one wanted to travel to branch offices , I took it as a opportunity and visited various northern branches and it fetched me a role  of assisting General Manager in all new HR Initiates, which had helped me in getting closer to HR by heart and mind and transformed my thought process else I would had  stuck in Statutory laws and other administrative HR works.
I hate Ireland :
I am sure you must have experienced the situation similar like "I hate Ireland" and learning's which Elango says memory bytes – Reflect don't deflect is worth reading and it also reminds me Rashmi Dutt' who says flight or flight in managing emotions in  her book "The Lion smiled at Rabbit."
Second chapter learning "Knowingly venture into the unknown path…" , I had practiced it unknowingly but now I am not doing it since I had seen the word and got trapped in the usual cage of routine and herd mentality ,  after reading this chapter I decided to venture into some unknown path especially in career front may be I like to take up some compensation related work where I don't have any expertise or look for something different which I never attempted before.
Third Chapter : I remember during my first job I told my General Manager, I am not enjoying my work and what may come I will be leaving by Feb, 27 , 2005 wether I get a new job or not and with in 30 days I got one, but today when I look  back I felt boldness while doing the same ,but today I might not do the same,  I do appreciate my General Manager who supported me,   Third chatpter focus on "Silly ways to Lose your job" and my learning is I should be little careful in social media platforms while discussing  and posting status messages..
Fourth Chapter –"Slit Chile" is my favourite topic in this book, "you are what you are but your brand is what you are sending message to outsiders", I realized today why people/friends always seek my opinion / advice, since unconsciously I must have projected myself as "Mr Know All", now I have image in mind probably in next 12-18 months I would like to change other perception about me.
Fifth Chapter-"The card Collector", my learning is I do lot of networking in FB/Twitter but I  never translated this contacts into opportunities, you need to check effectiveness of your networking, I should raise my hand and find how many helpful insight/business contact people can provide, but still I feel using LinkedIn connection for hunting a job should be the last option I know for many it is first option, the charm of getting the job without anyones' help/influence is a intoxicating experience for me.
Sixth Chapter –"Gone in Sixty Seconds" – l liked the acronym ESCAPE (Purposefully I am not expanding the acronym, read the book)
Seventh Chapter-"Walk like a baby" – Distinguish the symptom from the cause and treat the cause , what I observed is many of us are trapped in looking at things in it's entirety, many of the time we simply complicate things, in many situations where some mishap happened in workplace I went straight and said sorry /excuse me and explained many of the times , I had found Senior appreciating it accepting , by saying a sorry we are killing other persons ego and making him in hostile.
Eight Chapter-" Saying No"-  Many of us in corporate /personal life are not able to say "No" and I was literally forgotten about it, yes I need to develop the habit of saying No with assertiveness.
Ninth Chapter-"And Factor" – in Hindi we say Kintu /Paranthu and this chapter I had reminded me the epic Mahabharata, today everything comes with and factor…. And is nothing but terms and condition apply
I like page 102 a beautiful table of "The Before" and "The After" ,I learning from this chapter is when you are intoxicated with success do look at how long you are intoxicated is it any new things which you can do and get into intoxicated stage , success has to be consistent and repetitive.
The book is 90 pages but if you start getting into crux of things it will take little time to read , digest and absorb in your  blood..
"I always gifted "You can Win" to my friends &Colleagues and now I started gifting "You don't need a Godfather ".  Most of the things we already know but when you read this book you will get a perspective and clarity which reinforces your thought a must read for every corporate citizen.
My first book review in life and I am happy I choose YDNG. My brother says I am a horrible writer but my wife say's I keep writing may be in another 15 years time I might be able to write like Sashi Tharoor – afterall a mallu connection.
Happy Reading !!